So..What is the difference between a PROGRAM COMPLETION DATE & GRADUATION DATE?!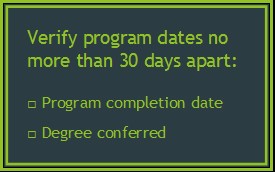 August 2015 - When applying for Initial Certification, if the Program Completion and Degree Conferred dates are more than 30 days apart, AANPCP requires receipt of a letter from the NP Program Director or Academic Dean verifying the Program Completion date.
Q 1
: What is Program Completion date?
A: The Program Completion date is the date all courses & clinical hours of an applicant's NP Track are completed.
Q 2: What is Degree Conferred date?

A: The Degree Conferred date is the date one is awarded their graduate degree or post-graduate certificate.

Students are NOT eligible to test until all didactic and clinical course requirements for the NP program are completed. Without the faculty verification letter, applications will be processed based on the Degree Confer date. For more information, read Frequently Asked Questions